Catalogue is now available, featuring essays by Katherine Hayles, Frances Dyson and Dot Tuer. Catherine Richards: Excitable Tissues, can be purchased from ABC Art Books, Montreal, Canada.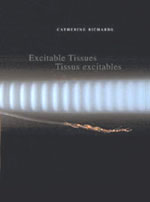 ---
Catherine Richards: Excitable Tissues / Tissus excitables
Frances Dyson, N. Katherine Hayles & Dot Tuer
Catherine Richard's practice as a new media artist is rooted in the investigation of the body within the promise and the threat of new technology. Through a rigorous application of the classical elements of scientific investigation, such as observable phenomena and experimental proof, her patented inventions explore the memories and subjectivity of the viewer. Richard's most recent interactive installations, unique quasi-objects that draw on both Renaissance curiosity cabinets and virtual reality environments, were the subject of a symposium whose presentations are printed here for the first time. Catherine Richards is the recipient of the Canada Council's Media Arts Award as well as a fellowship from the National Research Council of Canada. Frances Dyson teaches at the University of California, Davis, and has recently published with Princeton Architectural Press. N. Katherine Hayles teaches at the University of California, Los Angeles, and is the author of numerous publications on the relationship between new and old media. Dot Tuer is one of Canada's most respected art theorists. She teaches at the Ontario College of Art and Design. In English and French.
Dans sa pratique d'artiste en nouveaux médias, Catherine Richards opère comme anthropologue symétrique et établie, au sein du processus artistique, une médiation entre faits scientifiques indiscutables et sujets de droit entre science et société. Dans son travail, les éléments classiques du laboratoire scientifique sont présents - phénomènes observables, preuves expérimentales, éprouvettes, ... Mais sont également présents les souvenirs et les subjectivités, inscrits dans l'interaction du spectateur avec les "quasi-objets" qu'elle a façonnés en parcourant un horizon historique de la Renaissance au rococo jusqu'aux environnements virtuels de nos jours. Richards est récipiendaire du prix en arts médiatiques décerné par le Conseil des Arts du Canada ainsi que d'une bourse du programme d'Artistes en résidence co-établi par le Conseil des Arts du Canada et le Conseil national de recherches du Canada. En français et anglais.
The Ottawa Art Gallery / La Galerie d'art d'Ottawa (2003) 114 pp 38 ill (8 coul) 28x21 cm hardcover / couverture rigide 1895108756 $30.00 (21 euros)
Courtesy of ABC Art Books Canada Distribution